Center for Local Government Excellence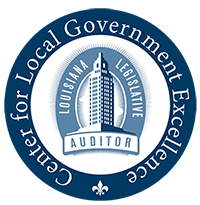 General Information
The Louisiana Legislative Auditor, through the Center for Local Government Excellence, will be offering complimentary classes on a variety of topics specifically designed for Louisiana's local government officials and their staffs.
Topics will include Public Bid Law and Cabela, the American Rescue Plan Act, internal controls and best practices, statewide agreed-upon procedures, Justice System Funding Reporting (Act 87), open meetings and public records, Local Government Budget Act, and understanding governmental financial statements.
The goal of this program is to enable local officials to take the knowledge and skills gained back to their respective governments and use them to make a positive difference.
The following VIRTUAL workshop has been scheduled:
VIRTUAL EVENT
Wednesday and Thursday, October 20-21, 2021
Click here to register
On Day 1, early login begins at 8:15 a.m. and the program will begin at 8:30 a.m. and end at 4:30 p.m. with a break for lunch. The program for Day 2 will begin at 8:30 a.m. and end at 12:30 p.m.
Download the Center for Local Government Excellence 2021 Training Brochure: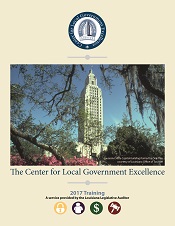 View the Agenda: