Center for Local Government Excellence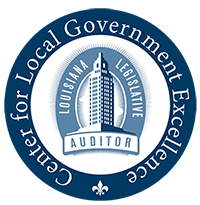 General Information
The Louisiana Legislative Auditor, through the Center for Local Government Excellence, will be offering complimentary classes on a variety of topics specifically designed for Louisiana's local government officials and their staffs.
Topics will include governance of a public entity, preventing disbursement fraud, managing capital assets, issues that can affect FEMA funding, legal hot topics, resolving common audit findings, communicating financial information to the board, and recurring Issues in Public Bid Law.
The goal of this program is to enable local officials to take the knowledge and skills gained back to their respective governments and use them to make a positive difference.
The workshop is currently being scheduled and will be live-streamed as an online event on Tuesday and Wednesday, February 8-9, 2022.
On Day 1, registration opens at 8:00 AM, and the program will begin at 8:15 AM and end at 4:15 PM with a break for lunch. The program for Day 2 will begin at 8:15 AM and end at noon.
Additional details and registration information will be posted soon.
To view sessions and handouts from previous workshops, please click on the link below: